E-prescription pilot in Poland is planned to be started this February. How the Polish solution compares to those in other countries? Is e-prescription a potential threat or opportunity for pharmacies? Will it hurt independent pharmacies, which do not have enough funds for investing in technology and marketing? We looked at e-prescription experience in the UK, Estonia and Germany.
E-prescription in the UK
Pharmaceutical Services Negotiating Committee (PSNC) promotes and supports interests of all NHS community pharmacies in England. We asked PSNC for comments about e-prescription service in England which is The Electronic Prescription Service (EPS) Release 2.
In order to use EPS, pharmacies must meet certain requirements:
PMR patient

medical record system

– should be provided by a pharmacy system supplier.

Smartcards

for all staff involved in the dispensing of prescriptions.
Consent of patients regarding EPS (

nomination

).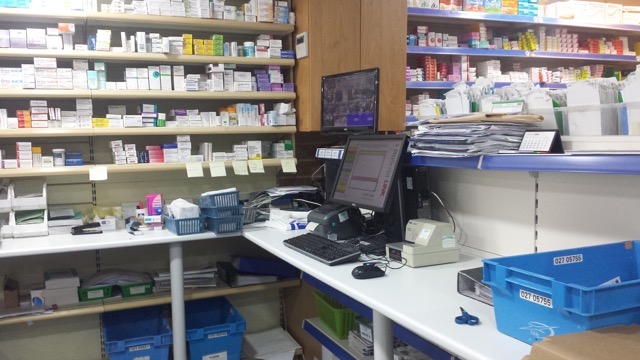 What is a nomination system?
At present, EPS in England requires the patient to nominate a pharmacy in order to receive his/her electronic prescriptions. Core nomination principles are in place to ensure that all types of pharmacy – independent, small chain or multiple – follow the rules of EPS nomination.
The nomination system can contribute to long term relation between pharmacy teams and patients, because it allows pharmacy teams to receive prescriptions in advance and therefore prepare medicines before the patient visits the pharmacy to collect them.
However, there is also flexibility within the system, as EPS nomination can be changed or removed at the request of a patient by any EPS user (a person working at a pharmacy or a GP practice) at any time. It is expected that one day patients may also be able to adjust their own nomination settings.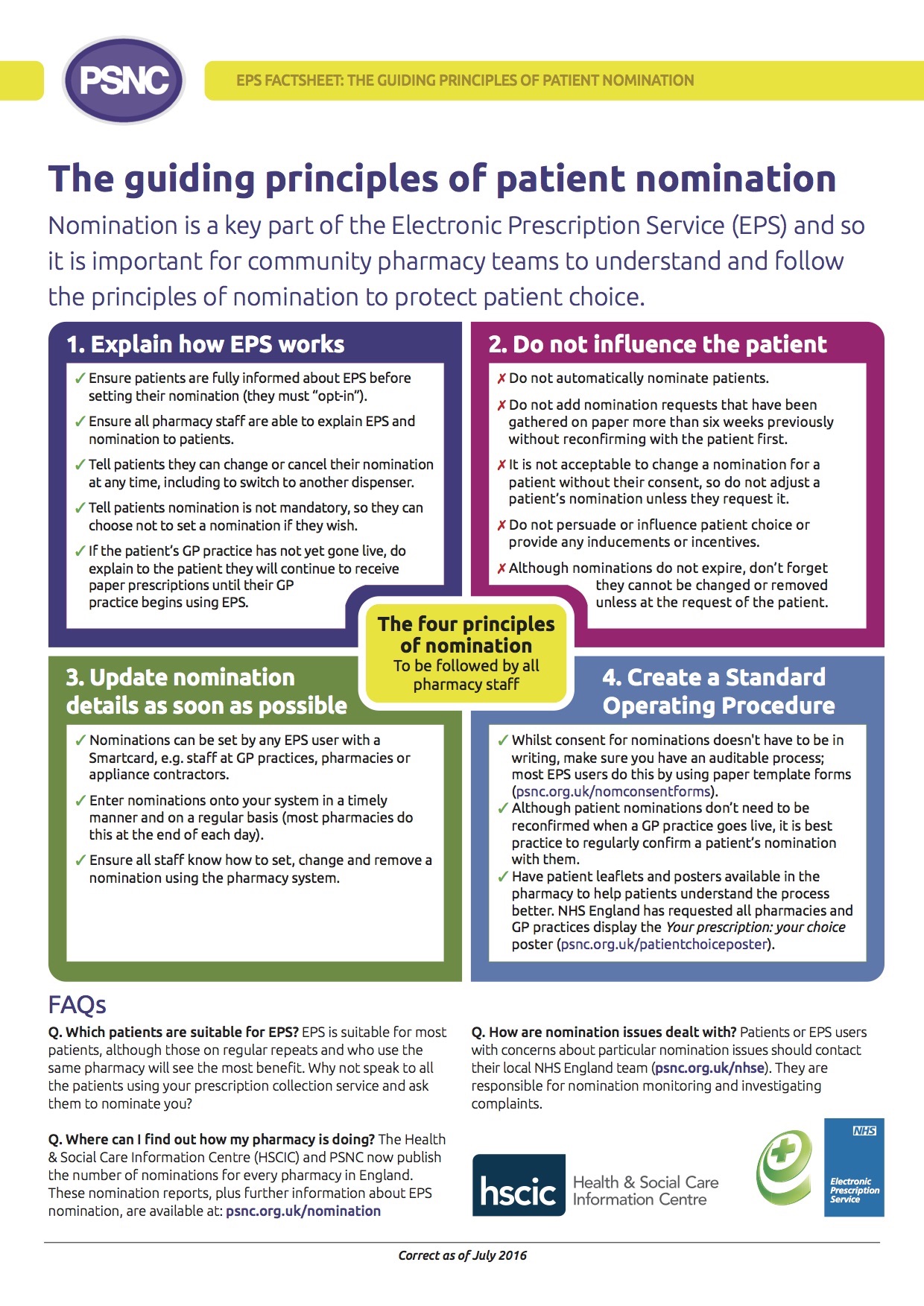 What are paper prescriptions needed for?
Almost every community pharmacy is enabled for EPS Release 2 and therefore has the ability to process EPS prescriptions. The latest NHSBSA figures reveal that 23 million out of a total of 41 million prescriptions were EPS. Around 56% of prescriptions were therefore EPS in September 2017 and the number is trending up.
Paper prescription is still required for controlled drugs, clinical check, picking, and the capture of patient signatures when claiming exemption from the NHS prescription charge. Duplicate systems create additional cost and workload for pharmacy staff.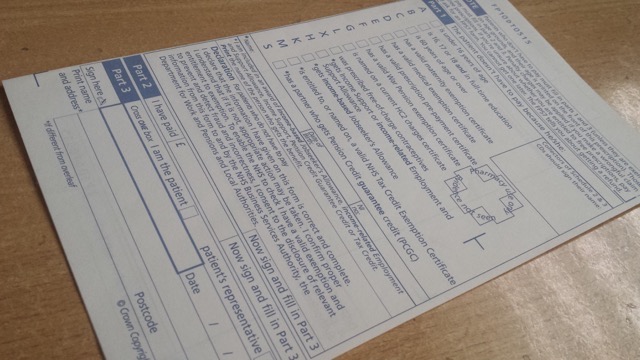 Challenges for pharmacies in the UK
Colleagues in the UK have summarised challenges regarding EPS as follows:
EPS volumes of course depend on the

willingness of GP

practices to prescribe electronically and, so far, uptake by GPs has been slower to become EPS-enabled than pharmacies.
Business continuity issues: with the move towards electronic systems, there is a need for greater resilience and contingency processes for when these

systems fail

(i.e. broadband connectivity problems or national outages).
The presence of suitable

training

and support for both prescribers and dispensers.

Costs

: both for pharmacies to access the latest system upgrades and for system suppliers to make their systems as usable as possible after having met the minimum specifications.
The new electronic model still

requires paper

in some cases.
The current

Smartcard

model /technology does not correspond to how most of the pharmacies are used to operating. Each staff member needs their own Smartcard to confirm their identity and ensure audit history. Logins take time. In reality, pharmacy systems are often shared amongst multiple staff members and many pharmacies use only one or two computers for all the dispensing staff.
E-prescription in Estonia
We asked Karin Alamaa-Aas, the chairperson of Pharmaceutical Chamber in Estonia, a few questions about how e-prescription in Estonia works. Karin said that both doctors and pharmacists are happy with electronic system because it is an easy tool which eliminated paper prescriptions completely.
Patients do not need to nominate only a single pharmacy – they can go anywhere they like to collect their medications. The only thing required of patient is to show his/her ID in the pharmacy. Since there is no nomination system, there is no place for its abuse.
Who were the winners and losers?
Pharmacies located in shopping centres and other popular places now have more customers, because patients do not need to go to the doctor's to repeat their prescriptions, they can do it by phone. Things went worse for pharmacies located close to GPs, because they lost some of the patients for this reason. Yet there is no particular risk for independent pharmacies, as the way the system works does not benefit larger players.
Nevertheless, from pharmacists point of view the system could still be improved. One pain point is lack of access to patient's medical record, which makes it difficult to provide good advice.
While electronic prescription was in the end implemented both in Estonia and in the UK, difficulties notwithstanding, Germany attempt was a total failure, illustrating critical need to take into account voice of all stakeholders, including pharmacists and doctors.
After it turned out that time to issue e-prescription is almost double compared to a paper one, doctors refused to support the smartcard-based system, which was subsequently cancelled.
Good overview of mistakes during the implementation is presented in paper The Failed Implementation of the Electronic Prescription in Germany - A Case Study; Drews, Schirmer; 2015.
Summary includes:
Focus on technical design, while neglecting operations and change management
An overall and

integrated architecture

was not provided in the beginning and not developed over time
Decision to start e-health with electronic prescription might have been wrong, due to volume (600m p.a.) and importance of this process
Reservations of the

German Medical Assembly

were not taken seriously; in the end doctors voted the system to be unfit to safely process medical data
Doctors had to spend more time with e-prescription (a total of 20 minutes daily), while they saw no benefits of the new system
Pilot, which was simultaneously started in 7 regions, was conceived poorly; users in several places were exposed to negative experience, which caused a snowball of negative sentiment
A lot of errors revealed in the pilot could be as well as discovered in earlier testing, if it was done properly
Program was inflexible, with limited capability for decision making; reaction to encountered difficulties took years
Cost-benefit analysis was carried out

too late

and not published; worse, it showed benefits accruing only to insurers, while doctors and pharmacies only shared costs
Lessons for e-prescription in Poland
One peculiarity of the Polish market is a heated competition between large chains and independent pharmacies. Nomination system therefore could create controversy, as it could give advantage to chains, who already invest in relations with medical providers to promote their service. However, patients will be allowed to use e-prescription in any pharmacy, like in Estonia, so this risk will be avoided.
E-prescription cannot be implemented properly without doctors' support. If the whole process is too difficult or time-consuming, for example because of problems with electronic signature, there is a risk that system will not find acceptance. On the other hand pharmacies seem to welcome new opportunity and their IT providers are ready with necessary functionalities.
Pharmacists in the UK emphasise that countries moving towards electronic systems should consider sufficient funding for the training of both prescribers and pharmacy teams. In England, there were teething issues where pharmacy teams lost money because of changes to the expected submission and claiming processes, changes in what teams were required to do and submit for payment.
We should also take under consideration all the reasons contributing to the failure in Germany and think about possible solutions for problems that might occur. Why is it that important? Because prolonged disruption might not be something the Polish healthcare system needs or is able to affort.